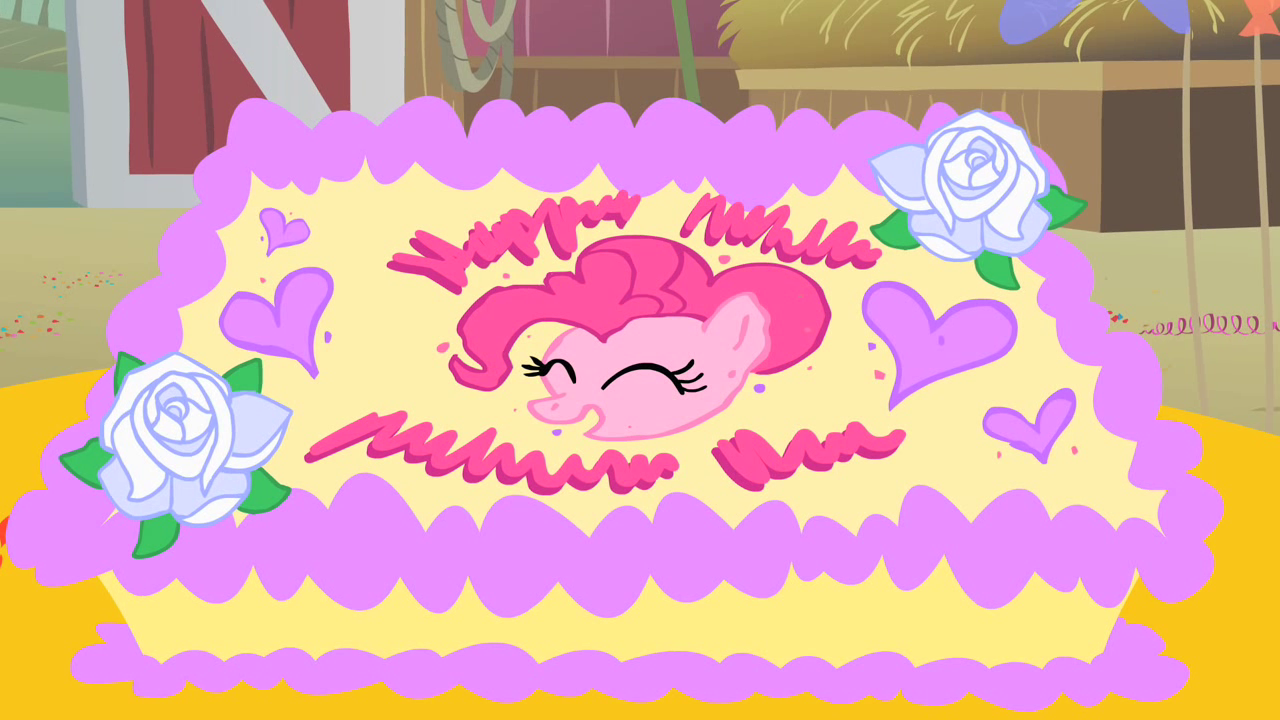 MLP Wiki
Six-Year-Old Girl Sued For Decorating My Little Pony Birthday Cake
The Daily Bungle
A six-year-old-girl is being sued by Hasbro for copyright infringement after decorating her birthday cake with a
My Little Pony
cartoon character.
Samantha Jones, 6, only wished to celebrate her birthday with a cake of her favorite cartoon character, Pinkie Pie, from the popular little girl's cartoon
My Little Pony: Friendship is Magic.
After baking a yellow cake with her mother and frosting it with white vanilla frosting, Samantha used pink icing to doodle a crude outline of a horse and spell out "Hapy Birfday From Pinky Pie" (with the 'p' in 'Pie' spelled backwards).
"The only thing that my daughter loves more than watching
My Little Pony
is drawing pictures of all the characters, and Pinkie Pie is her all-time favorite," said Audrey Jones, Samantha's mother. "So I could think of nothing better for her birthday than for her to decorate her own cake with Pinkie Pie, especially since she's the show's party pony."
But after Samantha's mother uploaded a photograph of the cake onto Facebook, the company that owns
My Little Pony
, Hasbro, quickly caught wind of it and responded with a lawsuit.
Because the character, Pinkie Pie, is intellectual property of Hasbro, any use of her image without the company's expressed permission constitutes copyright infringement, according to the legal notice mailed to Samantha.
"If the Jones Family wanted a birthday cake decorated with characters from
My Little Pony
, they could have legally bought one from a bakery that had been licensed to decorate them," said Robert Greeves, Hasbro legal attorney. "By decorating their own cake, they have taken away potential profit from my company."
Hasbro is suing Samantha and her family for $1,000 in royalties. The defense attorney representing the family is currently seeking an agreement to have the royalties decreased to only $5—the amount the family initially spent to bake and decorate the cake.
My Little Pony: Friendship is Magic
has proven to be Hasbro's most lucrative franchise since its toy line and animated series premiered in 2010, and especially since gaining popularity from outside its targeted demographic with teenage and young adult male fans, who call themselves "bronies."
However, with the franchise's surprise popularity, Hasbro has proven to be extremely protective of its intellectual property, seeking legal action against many fan-created content over copyright infringement.
In January 2013, Hasbro filed a Digital Millennium Copyright Act (DMCA) claim to have a parody series, "Friendship is Witchcraft", blocked from YouTube.
The following month, in February, a cease-and-desist letter was sent to halt development of the fan-made, non-profit fighting game, "Fighting is Magic."
Later that year, Shout! Factory, which holds the distribution rights for the animated series, began targeting video reviews that contained footage from the animated series, blocking several videos from multiple YouTube users including PaleoSteno, JoshScorcher, and MysteriousMrEnter.
Earlier this year, Hasbro sent a cease-and-desist letter to the owner of the parody blog, "Princess Molestia," ultimately leading to the blog being taken down.
#####
The Daily Bungle
"News so messed up, it almost seems real."
******
My first attempt at
Onion-style
satire. For my first "news article", I tackle the issue of copyright abuse using one of my favorite cartoons. As much as I feel that an artists' work should be protected by copyright and intellectual property laws, corporations like Hasbro have taken these laws way too far.
Ironically enough, this article was inspired by the
urban legend
about a daycare center being sued for painting murals of Disney characters. Sadly, that "urban legend" is actually true.