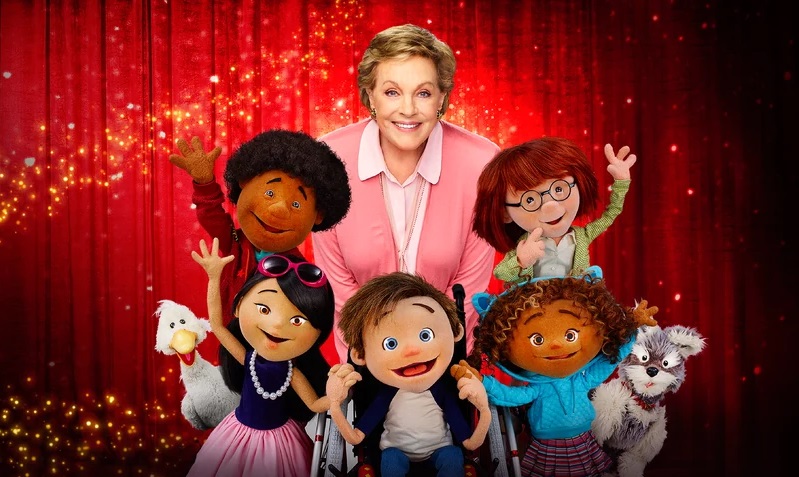 Muppet Wiki
This is certainly a first for Shameless Plug Saturday. Normally, I showcase a YouTube channel, website, or DA profile. This is the first time I'm showcasing a television show—specifically on Netflix. To its credit, it's an excellent Netflix series! (Then again, what Netflix series isn't excellent?)
I'm sure most of you are concerned about the future of the arts since arts funding is on the
federal chopping block
—or at least you would be concerned if you weren't smart enough to realize that
overall NEA funding
makes up only a fraction of a percent of the overall federal budget, that
both Kickstarter and Patreon
do more to fund individual artists than does the NEA, and that
the free market
does an overall better job of promoting the arts. Perhaps the most recent example of the free market shining in this department is with the newest Netflix original series,
Julie's Greenroom
.

Variety
I'm sure Julie Andrews needs no introduction. You probably know her as Mary Poppins, Maria Von Trapp, Eliza Doolittle, or—embarrassingly enough—Queen Clarisse Renaldi! As someone who loves the performing arts, and thus as someone concerned about arts education, Andrews decided to partner with the Henson Company to further educate children by producing and starring in her own children's show for Netflix,
Julie's Greenroom
.
The show involves her supervising a small theater workshop of elementary school children as they work to create and rehearse their own musical play. Each episode has her class learning about various aspects of the performing arts, from singing and acting, to ballet, improv comedy, and even circus acts—all culminating with the final episode when the children utilize all the skills they learned to put on their musical.
Aside from Julie herself, the show also features many other celebrity cameos from other notable individuals within the performing arts including Idina Menzel, Josh Gorban, Alex Baldwin, Tituss Burgess, Carol Burnett, Ellie Kemper, the cast of Stomp, and even Bill Irwin. (If you don't know who he is, he played Mr. Noodle on
Sesame Street
!)
Perhaps even more impressive than the celebrity stars are the puppet characters themselves. All five characters exhibit a rainbow spectrum of diversity with every possible identity represented, with a girl who's Asian, a girl who's Latina, a boy who's African American, another boy who's paraplegic, and even
an androgynous non-binary little girl
who's into tech!
Staying true to its commitment to diversity and representation, each episode focuses as much on teaching social development as it does the performing arts. For example, its episode about ballet has one male character questioning whether or not ballet is more than a "girl" thing, while the other male character worries whether or not he can even perform ballet in a wheelchair. Both characters learn that, yes, anybody can perform ballet, and even have a chance themselves to put on their own unique performance.
While this series is specifically created for young children, it certainly is entertaining and engaging for viewers of all ages. Watching it myself made me feel like a kid again watching a show like
Sesame Street
! If you have young kids, I'd recommend watching it with them. Or go ahead and watch it even if you don't have kids. The show's really that good!